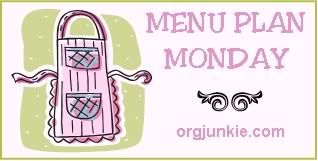 So its time again for Menu Plan Monday! I am excited about this, we did really well with last weeks menu and actually stuck to it for the most part. Only one night did we not stick to it! So my goal for this week is to stick to it completely and use what I already have on hand without having to make any extra trips to the store. Let's see if I can do it! You can check out more menu's at www.orgjunkie.com

Monday - Frozen Pizza

Tuesday - Shredded BBQ Chicken Wraps

Wednesday - Vegetable Beef Soup

Thursday - Breakfast for Dinner

Friday - Spaghetti

Saturday - Sandwiches and pasta salad

Have a great week!