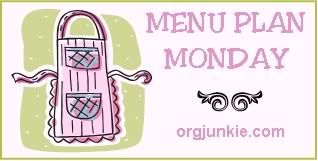 So this week I am really going to be utilizing my stockpile, I am going to challenge myself to not go to a grocery store at all this week for anything. I have everything I could possibly need for one weeks worth of meals. So that being said, here is my menu plan for the week, you can find other menu plans and great tips for organizing your home and life at www.orgjunkie.com!
Monday - At the Grand Canyon - Dinner Out
Tuesday - Spaghetti and Meatballs with Garlic French Bread
Wednesday - Grilled Cheese and Tomato Soup
Thursday - Chicken and rice with vegies
Friday - Pizza Night!