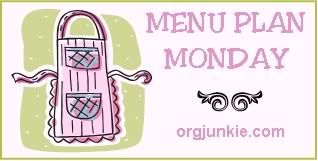 It's that time again, Menu Plan Monday!

I did so well on my Menu last week, I stuck to it really closely all week long and used what I had in the house. I didn't have to go to the store for anything for my meals. Yay me! Still celebrating the little victories!

Here is this week's menu plan and don't forget to stop by www.orgjunkie.com for more helpful tips and menu's!

Monday - Leftovers

Tuesday - Chicken Quesadilla's

Wednesday - Grilled Cheese and Tomato Soup

Thursday - Taco's

Friday - Chicken and pasta with red sauce

Saturday - Mom's Night Out!!