Redecorate the Apartment - Phase One!

We started on the redecoration of the apartment today and have decided to start with Hannah's bathroom/bedroom since we already had that paint, its one less thing to buy right now. So today I started painting her bathroom and am almost done with it. Just need Sean to bring home the ladder to finish the top of the walls.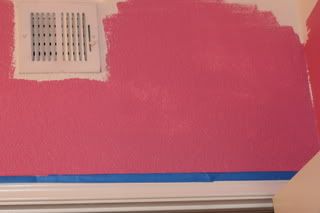 It will be a color scheme of this deep pink with black and silver accents. I will be using black shelves to put some cute decorative stuff on. Also, in the bedroom and bathroom I will be making curtains for the shower and window. The one in the bathroom will go from the ceiling to the floor and I am hoping to find some black/white damask print fabric. I am looking for glam/dramatic in both of these rooms. I will be going this weekend to hopefully find the fabric and the shelves that I need for the rooms!