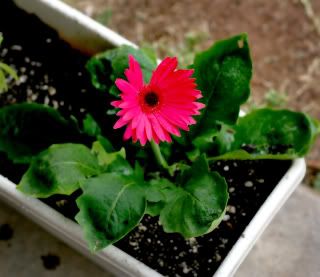 I just had to share, this flower makes me happy! Its a Gerber Daisy and its my absolute favorite flower. It just makes me happy to see it. I went and bought this plant yesterday and planted it in the planter in the backyard with a few other types of flowers. We got Geranium's, Snapdragons and some Primrose. I have learned I really enjoy gardening....who knew!


We also picked out the seeds for the vegies we want for the vegie garden. We already have the tomato plant (that is really doing so well!) and now we have broccoli, carrots, peas, green beans and spinach!


Sean and Hannah laid the winter seed grass today too, so hopefully in a couple of weeks we will have some nice winter grass for Hannah to play in the backyard.