We started off in the middle of the desert. Yes, seriously. We went up the 17 to the Carefree Hwy, took that for a gazillion miles (or almost to Lake Pleasant) took this turnoff that led to a trail in the middle of the desert. Drove on the trail for a while, went 4 wheelin' to the bottom of the river bed...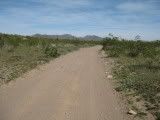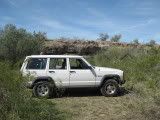 Finally we stopped and got out, unloaded our old boxes and got out the gun. Now, some of you might say, why on earth did you go to the middle of the desert on your anniversary to go shooting? Why not just go to a shooting range if you really wanted to take target practice? Well, this was my first time shooting a gun in 20 years...the last time I went out to the desert to shoot was with my dad when I was about 12. So Sean didn't know if the people at a shooting range would let him instruct me at all or be in my lane with me so we went to the desert. It was quite a bit cheaper too. So here we are firing at our targets that were at the bottom of the river bed about 45 feet from where we were standing...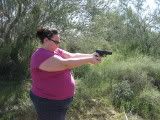 I think I did pretty well for my first time out in 20 years. I fired 40 rounds and hit my target 23 times. Sean fired 30 rounds and hit his target 22 times. Not too shabby!
Happy Anniversary Sean!