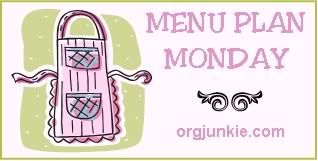 It's time again for Menu Plan Monday! If you don't know what its about just head over to orgjunkie.com to check out the tips and get all sorts of ideas for recipes and lots of things. So, here is my menu for the week:

Monday: Breakfast - usually includes waffles, eggs, bacon and sausage

Tuesday: Tostada's and beans

Wednesday: Chili-ghetti (this is my MIL - who passed away in January's recipe and my FIL and SMIL get into town tonight for dinner)

Thursday: Dinner out at Roberto's (was featured on an episode of Diners Drive Ins and Dives with Guy Fieri and we have been eating here for years before it was on the show, sooo yummy!)

Friday: Family Dinner - shishkabobs with steak, chicken, veggies and potato salad and fruit salad

Satuday: Red Beans and Rice

Sunday: Baked Ziti

See ya next week for Menu Plan Monday!