I don't think I need to tell anyone that living in Phoenix in summer is like living on the face of the sun. I have heard it likened to walking into an oven set at 450, yeah...its that hot. So it's no surprise that keeping anything alive in a garden is near impossible once the heat starts (usually around April or May). That is why my flowers look the way they currently do...and I am on a mission to rescue them! It can't be that hard, can it?
I should mention, the plants in the first picture from left to right are Pink Geranium's, Red Geranium's and Multi Colored Primrose. In the second photo are my beloved Gerbera Daisies, peach, pink, hot pink and there is also Chinese Dogwood.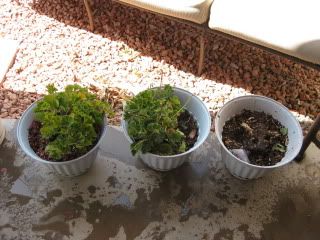 Well, I guess we will see how hard it really is to get flowers to bloom in the desert!