It's time again for Aloha Friday! Kailani over at Island Life 808 writes: "In Hawaii, Aloha Friday is the day that we take it easy and look forward to the weekend. So I thought that on Fridays I would take it easy on posting, too. Therefore, I'll ask a simple question for you to answer. Nothing that requires a lengthy response.

If you'd like to participate, just post your own question on your blog and leave your link below. Don't forget to visit the other participants! It's a great way to make new bloggy friends!"

So My question is: What is the most recent project you have either started or completed around your home?

For us, my inlaws are currently in town from SoCal visiting for a few days and we are working on some projects around the house. Yesterday we made over the front yard, and boy what a difference! Here are before and after pictures...
This is the only picture I can find of the before, so its not truly accurate of how bad the front looked!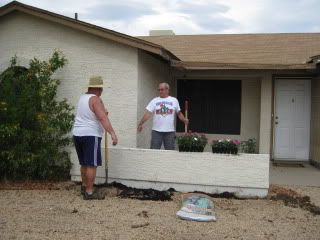 and here is the finished project...




It's such a great feeling to have the front yard looking so good! It was really easy, just took some hard work and about $75 for all the new plants and soaker hose. That is my most current project around here, let's see yours!