What a great weekend I had with my family. It started on Wednesday with my inlaws coming into town from SoCal for a few days. We ordered dinner in and played out in the pool and just had a great time. Then Thursday we decided to go to Lowe's to look at flowers for the garden and some other stuff. Well, we of course found a bunch of stuff we wanted to add to the front garden so SMIL and I decided we would come back after lunch and get what we needed to redo the front yard. So we all headed over to Red Robin for some lunch..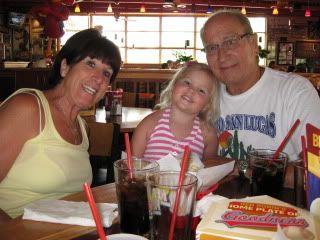 Hannah loved having Nanny and Papa BobBobBob here. She played Connect 4 with them, watched cartoons, flew airplanes, helped plant the new flowers, played in the pool, did morning prayers with nanny and at bedtime nanny read Harry Potter to Hannah.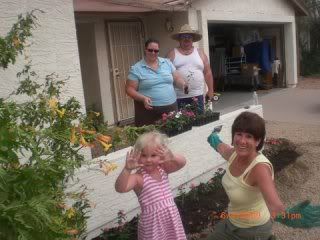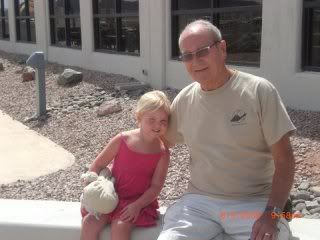 Then Friday, hubby and I had a funeral to go to for my Great Aunt Anne, she was my favorite great aunt. She was 81 and passed of natural causes. So we left Hannah home with nanny and papa while we went to the funeral with my parents. When we got home, nanny and I ran to the grocery store to get some last minute stuff for the family bbq that night. Hannah stayed home and played in the pool with daddy and papa. When nanny and I got home, we went in the backyard and started cleaning up the yard by trimming back the bushes and things like that. That turned into ripping out 4 oleander bushes, 3 rosemary bushes and replanting 2 bougainvillea's and trimming back all of the pittsphoria plants. Then we cleaned up the mess from all that work and everyone came inside and got showered so we could start getting the food ready for the shish kabobs and grilled veggies. Yum! My parents came over and brought 4 different salads. My brother and SIL and their kids brought a yummy fruit salad. We all went out back and the kids played til dinner was ready, we all ate out in our new backyard and then those who were brave enough got in the pool!