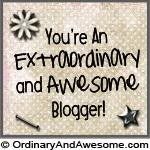 Who knew?! Sweet! First I would like to thank the academy...oh wait, wrong speech! No, seriously thank you to Valentine for this award. Totally awesome!

Since I have been graced with this fantabulous award with no instructions on passing it along, I have decided to pass it on to a few of my bloggin' friends!

Crystal at My So Called Life

Danielle at Don't Touch The Cactus

Rachel at Rachel Vs The Kitchen

Thanks again Valentine!!