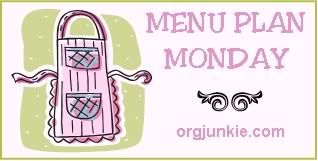 Amazingly it's that time again already! How does this happen? Anywho, for more information on Menu Plan Monday, head over to Orgjunkie.com for more tips and recipes. You can also link up after you post your own menu for the week. So here is mine..

Monday - Spaghetti Squash with grilled veggies

Tuesday - Crock Pot Shredded Chicken Taco's from Rachel vs The Kitchen

Wednesday - Meatloaf with mashed potatoes and steamed veggies

Thursday - Omelets

Friday - Nacho's

Saturday - Layered Salad

Sunday - Leftovers

See ya next week for another Menu Plan Monday!