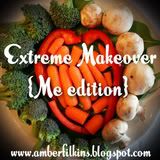 I am sure you all know the drill by now, so head over to Amber's blog and link up for this week's EM:ME!

Amber wants to know 'How are you doing'?

Well Amber, since you asked, I am doing fantastic! I haven't weighed myself this week, but at last count I had lost 5 lbs and dropped an impressive 23.5 inches (as of a 4 days ago). I am up to 12 or more miles a day on the stationary bike and that includes hills and increased resistance. Some days are harder than others to get through mentally, but I am fighting through it and completing my miles every day and I WILL hit my goal of 150 miles biked for the month of July (and yes I am doing that 150 in less than a whole month, I am doing it in just over 3 weeks!)!!!

I am heading into vacation this weekend at the beach and I am so excited to be heading out of town. But I was worried about not having my bike and not getting my miles in while on vacation. I don't want to fall behind on my progress and I know how much harder it will be to come home and try to get back on the wagon. So I talked to my MIL (who we will be staying with) and we have agreed to keep each other on track while we are there. They have a pool, a treadmill and of course we can take lots of walks. So hopefully I won't fall behind at all, it will just be 4 days of a different kind of exercise, which will be good for my body to spice things up!

Wooohooo! Here I come vacation!!