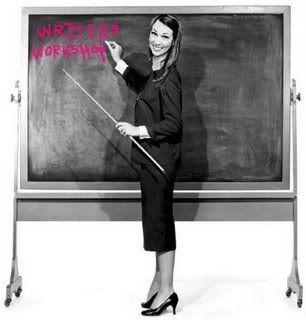 It's Thursday, that must mean it's time for another Writers Workshop! Head over to Mama Kat's Losin In for details and to link up! The prompts for this week are:

1.) Ask A Dad! Write a letter asking your husband for advice regarding any issue you might have and record his answer.
(inspired by Three Bay B Chicks)

2.) Describe a situation that forced you to confront a neighbor.
(inspired by Jori-O)

3.)Tell us about Grandpa.
(inspired by Heather at The Extraordinary Ordinary)

4.) Which appliance in your home would you most miss living without if you had to live without.
(inspired by Amy at Escape Into My Thoughts)

5.) What are three things we would love to know about you!
(inspired by Live. Laugh. Pull Your Hair Out)

This week I am going to talk about...ME! I am choosing prompt 5 and I am going to tell you three things that I think you would like to know about moi!

The first thing we will talk about is...my 'job'. I am the Site Admin for PhoenixMommies.com, we are part of a National Non-Profit Organization The Mommies Network. PhoenixMommies has been around for 2 years (this past June) and we have about 400 members across Maricopa County. We cover over 9000 sq. miles of territory. I have a staff of 8 managers and 16 moderators. We have online forums to discuss everything from what happened during the day to how to deal with a boss to diaper rash and everything in between. We also host at least 30 events around the Valley every single month. As the Site Admin (SA), its my job to make sure its all running smoothly, be the boss lady, oversee all aspects of the site from technical issues to fundraising for different charities around the Valley to making sure the calendar is planned each month and creating the monthly newsletter. Being the SA is frustrating at times, but its also very rewarding to see what all my hard work has created. Every position with PhoenixMommies including mine is a volunteer position too.

The second thing you all should know is I was homeschooled. From grade 8 through high school graduation. The biggest reason my parents decided to homeschool my brother and me was that we were living in Sacramento at the time and the Jr High that I was going to was known as one of the roughest because of gang activity, teen pregnancy and underage drinking. I have no idea how I am still alive as I was friends with members of both gangs and somehow that must have protected me. Anyway, my parents pulled my brother and I out of public school and the first year of homeschooling was using Abeka program. The next year we enrolled in the Advanced Training Institute (of America at that time - now its just ATI) through Bill Gothard. We became really involved in the program and I was invited to attend a 2 week program in Indianapolis. I was later invited back to Indianapolis to work in the program they had working with troubled youth in the not so great area's of town. After that I was invited to Dallas to participate in the EXCEL program for 2 months, teaching young women how to be Proverbs 31 women. We had classes all day that included things like cooking, home decor, sewing, courtship vs dating, being a Godly woman, midwifery and lots of other subjects. When that program was over I graduated and returned home to my family. I graduated from high school with 17 other kids through the Arizona Families for Home Education.

The third thing I think you would like to know is that during Hurricane Katrina I was working for my dad, who is a general contractor building multi million dollar homes. I was his office manager. When I heard that some of the evacuee's would be coming to Phoenix, I got in touch with the people organizing the coliseum where the evacuee's would be housed to see if I could setup a booth to get jobs lined up. My hubs also worked at the coliseum one night as an EMT and he met a man named Terry who had been evacuated with his wife Zinda. Terry was a plumber by trade and so of course I wanted to try and get him a job lined up if I could. When we got down there to setup our booth, I brought my dad and my hubs and we did find Terry. We hooked him up with not only a job, but the hubs and I took Terry and Zinda into our home until an apartment was found in Phoenix for them. We ended up securing jobs for about 30 men through our subcontractors. Terry and Zinda are still living in Phoenix and Terry calls my dad and my hubs to check in with them from time to time to see how every one is doing and to express their thanks, even after all this time. It was a great experience for all of us I believe.

Well, that is enough about me for today!