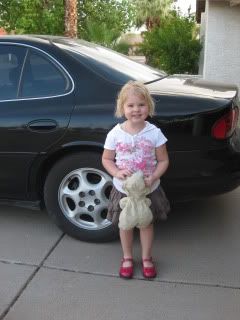 Hannah started pre-k the Monday after we got back from our road trip. She talked about it the whole time we were gone. She woke up on her own an hour before we had to leave the house...she is NEVER up that early anymore! I made her eggs for breakfast and off we went. I picked up my mom on our way to school..you know, moral support for me! We walked in and I signed her in. We walked hand in hand down the long hallway to the last class on the left and walked in the door. Her teachers, Miss Carol and Miss Marie greeted us and off Hannah went! Wait, what?! She took off and sat at a table with a few other girls who were coloring. One of the girls said to Hannah, 'you can be my friend ok'? Awww! So I stood there and talked to the teachers for a few minutes and then told Hannah I was leaving and would be back after lunch to get her. She said ok bye! Ah, hello short one, I am not leaving here without a hug and a kiss! She obliged and off Mimi and I went. I dropped Mimi off at home and as soon as I got home I started bawling. Yep, I am a big cry baby. My house was too quiet, I was all alone in the house for the first time in...for-ever!!! (little trips to the store with Mimi or Daddy don't count). What on earth was I going to do with myself for 4 hours in a house this quiet? With no little person running around screaming and dancing and watching cartoons and all the other million things that she does all day.

I did some cleaning and reading and watched some shows I had been wanting to see. Finally it was time again to pick Mimi up to go get Hannah. We decided to have lunch with Sean at the hospital after we picked Hannah up so he could hear about her first day too. So we went and got her at school and the little stinker didn't even want to come home with me! But at least she had fun and even made a couple of new friends right off. Her teachers are really impressed with how polite she is and how easily she has made friends. They said, 'everyone is her friend, she is so sweet and nice to all the kids'. Aww, that makes a mama feel good. I must be doing something right then! After we left we did go have lunch with Sean at the hospital and then dropped Mimi off again at home.

She has gone to school for 2 weeks now and absolutely loves it. She wants to start going full day's but we aren't ready for that. So for now, she will keep going 2 half days a week. And I have learned what to do with my 8 hours a week of free time...ANYTHING I WANT!!