Saturday was a great day. We went uptown and met up with Sean's Aunt N and Uncle D and his cousin's daughter L who is a freshman at Cornell now. This was the first time I had met any of his family besides MIL/FIL/SIL and we have been married almost 6 years! We decided to head over to the Skillet Cafe for some lunch and had a great time getting to know each other. After that L had to head to the airport to pick up her dad who was flying in from NC for MIL's memorial. We all decided to meet back up at the Cornell football game that afternoon.

We went and did a little shopping at the Commons (bookstore on campus) and got Hannah and I our Cornell wear, since Sean already has a lot. Then headed over to the field and found Aunt N and Uncle D. It was a good game and gorgeous weather. Hannah made friends with the cheerleaders and also the mascot, Ulysses the Ram.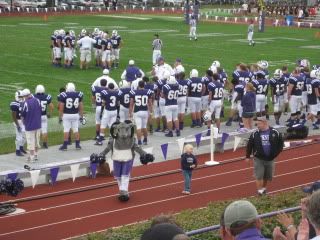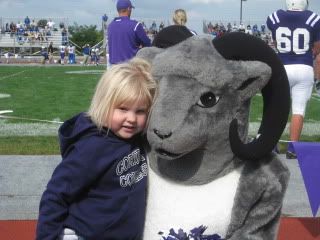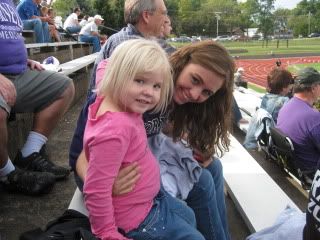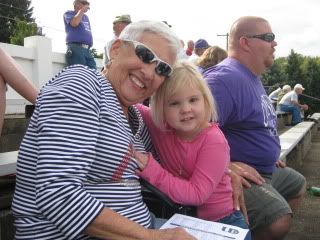 After that we went to the grocery store to pick up stuff to make a dinner on Sunday to thank Dick for his hospitality. When we were on our way home, we drove by the house that Sean lived in when he was growing up. And this being the Midwest and the tiny town that it is, Sean decided to stop and talk to the owner who was outside raking leaves. Hannah and I stayed in the car for about 15 minutes and then Sean and the owner walked by the car and Sean told me to bring Hannah. The man invited us in and literally showed us room by room what changes had been made to the house since they had bought it. They have owned it for 15 years I think and had done a wonderful job at keeping the look of the house the same and had done a lot of renovations. We spent over an hour with this man in his house and when were leaving he invited us to come back anytime we were in town. Now, that is what it is like in small towns. Not here in the big city. I was in shock the whole time. Sean thought nothing of it! It was very nice of him and I did enjoy seeing the house and it was neat to show Hannah where Daddy had lived as a kid.

After that we went back to the house and just chilled. We ordered pizza in that night since the Iowa Hawkeyes game would be on and we all hung out together to watch. Thankfully the Hawks won and all was well in Dick's house. The next day we decided to head over to Lisbon for breakfast to this little restaurant that has been there since Sean was a kid. One of his schoolmates mom is the owner and when we went in she recognized Sean and talked to us for a while. It was fantastic food and really fun to experience taking Hannah to someplace that Sean used to go growing up.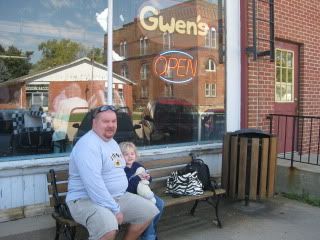 After that we went back to Palisades Park and hung out for a while just relaxing. Then went home and cooked dinner. We wanted to get to bed early Sunday night since the next morning would be hard with MIL's memorial service.