Monday was MIL's Memorial Service. It was 8 months to the day of her passing. We got up and got ready and headed to the church. As soon as we walked in Sean lost it. I knew it would be a really hard emotionally draining day for all of us, but I really didn't expect this. The three of us huddled together before going in search of the Pastor. She came in and took the big picture that we had framed of MIL and started arranging the picture and MIL's ashes on the altar. Tori (my SIL) came in and had a huge floral arrangement that one of MIL's friends had provided of MIL's favorite flowers.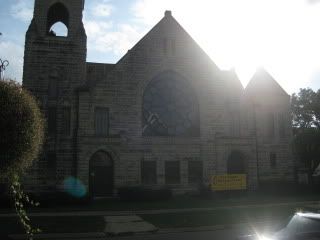 All the family started arriving first and Hannah and I got to meet all of Sean's family. Aunts and Uncles, cousins and even his other sister (that he didn't grow up with). All of MIL's friends who she had known most of her life. It was amazing to see all the people that MIL touched during her life. The one thing that every single person said about her was what a strong, brave and loving woman she was. Truer words were never spoken.

During the service we had asked MIL's older brother and sister to speak first and Uncle E ended up speaking for both he and his sister Aunt A. She was too emotional and couldn't. Then the friend of MIL's that we had stayed with when we first got to Cedar Rapids talked about her memories of MIL and what a special woman she was. After that it was Sean and Tori's turn. Hannah and I sat in the pew and as Sean and Tori took turns talking about their mom, it was all I could do to not do the ugly cry and start sobbing. I bawled, Sean bawled, Tori bawled. Every one in the church was bawling. Finally the service ended and everyone stayed for the luncheon that was being provided by MIL's old employer. Memories were shared and there was a lot of laughter along with it.


Later that day, we all decided to meet up and start going through MIL's things to decide what we were keeping and what we were getting rid of. It took all afternoon to get about halfway through.



When we were ready to call it a night we decided to all go for dinner at the Pizza Palace again. So the three of us, Tori and Cousin T with her 2 girls went to dinner and had a great time. We decided to meet the next morning to finish going through MIL's stuff and then that night we would go to dinner at the Greek place in town where Sean and I went the night we got engaged 6 years ago! It was a really long day, but we were all relieved when every box had been gone through and all was packed up and loaded to bring home.




Tori and Cousin T decided to take the girls to the park near Dick's house for a while to play and just be outside and be kids. They had a great time! Tori had also brought her two dogs down with her from Montana so the girls loved playing with Doug and Ida at the park too.




We all loaded up in Cousin T's minivan (That I fell in LOVE with BTW!) and headed to the Greek restaurant. We laughed and talked and of course ate way too much delicious Greek food. After dinner they dropped us off at Dick's house and it was time to start getting things ready to load back up to head out for home the next day.