I haven't done a 'My Favorite's' post in a while so I think its about time! Here are some of my favorite skin care and makeup products of the moment.


Cleanser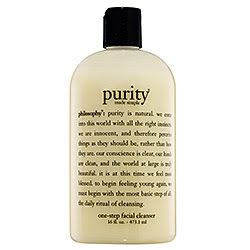 This is the best cleanser I have used in years. When I had my daughter my skin changed drastically and this is the only cleanser I have found that didn't dry my skin out or cause any irritation.


Moisturizer



I have a hard time with moisturizers being too oily, but not this one. I don't ever feel like my face is a giant oil slick when I use this product!


Tinted Moisturizer (used in place of foundation)



I live in Phoenix and I don't think I have to tell anyone that it is like living on the face of the sun in summer. So wearing a thick, heavy foundation just doesn't work. It will slide right off your face. So I have taken to wearing tinted moisturizers especially in summer, but for me I wear it all year long unless I need more coverage for a special occasion. This one is the best I have found and gives a nice glow as it offers light coverage without feeling like foundation.


What are some of your summer favorites?

* Please Note: I have not been asked to review any of these products, they are just simply my favorites and I wanted to share how awesome they are with my readers!