We have been talking for years about moving. Not just like moving to a new house or in a nearby city in the same state. We first talked about moving to Charlotte, NC a little over 3 years ago. Life got in the way and we didn't go. Next we talked about moving back to the small town that hubby is from in Iowa. Life got in the way again and we didn't go. Just recently we started talking about moving again. This time we made a list of our top 3 places and what the pro's and con's were for each of them. Then we started talking to friends and family who lived in each of these three places. The front runners were Tampa Florida or Mt Vernon Iowa (where hubby is from). We talked some more and decided on Tampa. We made a plan and then decided to change it.




Hubby and I started talking about what life would be like in Mt Vernon and I started looking at pictures from our trip last year back there. Then, it hit me. I like LOVE Mt Vernon and want to live there. From that point on there has been a huge change in our family. It's like when you know its the right thing, everything just starts falling into place without you really doing much of anything.




We decided we move anytime between now and 2 years from now. We updated resumes and sent a couple out over the weekend. Then Wednesday, hubby was working on the ambulance and got a call back from a hospital he applied at in Cedar Rapids. By the time he was able to call back they were off work so he called Thursday. They wanted him to come out for an interview! So, we talked to them some more to get more details on the position and benefits. It is a hospital he worked at for years when he lived in Mt Vernon previously. So, we booked his flight this morning and he interviews on September 8th. AHHHHHHHHH!!!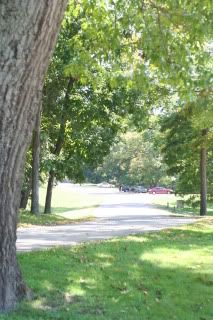 I have started packing and purging, because I am NOT moving all of this crap we have accumulated over the last few years across the country! We are so excited and can't wait to see what this opportunity brings. We believe that he will get this job, we believe this is the best move for our family. I am so thankful to have the support of our families and all of our friends.