I recently had the opportunity to review Time4Learning, they are an education based website for families.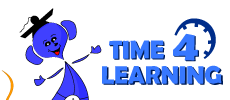 It was really easy to register and login, with a separate login for both myself and my daughter. There are great forums for parents in addition to an area that you can keep track of how much time your child has spent on the site and what they did. For my daughter, she really enjoyed being on the computer by herself and not having to be helped to do anything. She loved the illustrations and colors used. She especially loved the math games, it was easy for her to understand and was very clear in the directions. I appreciated how interactive everything was, she wasn't just sitting there staring at a computer screen, she was shouting out the answers and getting really involved.

Disclaimer: This opinion is entirely my own. I received a 30-day free trial in exchange for my honest review.