I love this link-up with Becca from
R We There Yet Mom?
.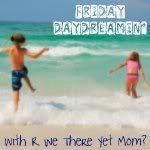 Ready to Daydream your Friday away? It's simple!
1. Post your favorite vacation picture and tell us a little about it.
2. Grab the "Friday Daydreamin'" button and link up your post below.
3. Visit some of the other amazing vacation photos that have linked up (and leave some comment love!)!
4. Let the Daydreamin' begin!
This picture was taken a few years ago. A friend and I had taken our babies to a town just outside Phoenix for a 9/11 memorial. It's called The Healing Fields and it is a giant field near a lake that they place 2977 flags for every person who lost their lives on 9/11/01. It was beautiful and we couldn't help but tear up as we watched our little ones walk through the field of flags holding hands and wandering around. We tried to explain as best we could in terms they would understand what had happened and why the field of flags was so important. This remains one of my all time favorite pictures I have ever taken.