Yay, it's finally Friday! Time again for Friday DayDreamin' with
R We There Yet Mom?
, go check it out and link up with your own picture!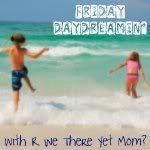 Ready to Daydream your Friday away? It's simple!
1. Post your favorite vacation picture and tell us a little about it.
2. Grab the "Friday Daydreamin'" button and link up your post below.
3. Visit some of the other amazing vacation photos that have linked up (and leave some comment love!)!
4. Let the Daydreamin' begin!
We live in Phoenix, Arizona and I don't know if you know this or not, but it's flippin' hot here. Like 9 months out of the year. It's ridiculous. So any chance we have to get the heck out of the heat and go North we take it. Sedona, Jerome, Flagstaff..all are North of the Valley (Phoenix) and are gorgeous. Not just weather-wise but scenery too. My in-laws live in SoCal and they love Sedona so whenever they take the trip to Sedona we usually meet up with them for a day to sight see and just relax. This picture is from one of those times. Isn't it gorgeous?