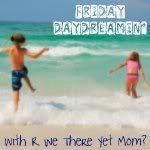 Thank Goodness, we made it to Friday!!!!!!! Time to celebrate, yes?! I don't know about you, but I am gonna kick off the weekend with a little DayDreamin' with Becca from
R We There Yet Mom?
, she has great tips for traveling with a family along with some awesome stories and pictures of her travels!
We took a 2 week long road trip to Iowa a couple of years ago. Our reason for the trip wasn't necessarily a happy one, Hubby's Mom had passed away in January of 2009 and we had her Memorial in September of that year back in Iowa. We made a lot of great family memories on that trip though and I am so glad we were able to take the time to get across the country. I wouldn't trade it for anything. Once we got to Cedar Rapids, we stayed with an old friend of MIL's for a couple of days before going to stay at Hubby's friends house in the small town he grew up in (Mount Vernon).
This is Main Street in Mt Vernon
We went to a high school football game, a college football game (both of which were teams my Hubby played for) and got to visit with friends and family. One day we went to a local farm to walk through a corn maze and see the animals. Hubby had known this family who owns the farm for years of course and they said just go explore, so we did. Kroul's farm had cows, chickens, ducks, rabbits, dogs, kittens and a few other animals. They had tons of pumpkins, corn and a bunch of other veggies they grow on the farm. One of their kids played football for the University of Iowa Hawkeyes and was drafted by the New York Jets, he is on their practice squad now (Matt Kroul).
This was one of my favorite parts of the trip. I never knew corn grew so tall! lol, I'm a city girl and Hubby laughed at me when I told him I had no idea it was so tall. Great memories from this trip!