I found a great new link up, really makes me wanna go on vacation...like NOW! Friday DayDreamin' brought to us by
Becca at R We There Yet Mom?
...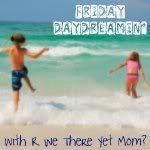 Ready to Daydream your Friday away? It's simple!
1. Post your favorite vacation picture and tell us a little about it.
2. Grab the "Friday Daydreamin'" button and link up your post below.
3. Visit some of the other amazing vacation photos that have linked up (and leave some comment love!)!
4. Let the Daydreamin' begin!
We try to take one or two road trips to Southern California every year to visit my inlaws. In 2009 we went over and on one of our trips to the beach we were walking along the pier in Oceanside and came upon this sign next to a ginormous bird. It seriously made us all laugh out loud!