Well, we made it to another Day Dreamin'! Woohoo!
Becca
has an awesome blog that she shares travel tips and all sorts of pictures of places that are worth a visit if you are in the area...go check her out and follow her!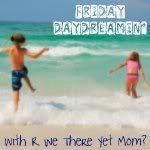 So, last week I shared a picture of
The Pitons
in St Lucia from our honeymoon. I had a request to share more pics and stories from that trip so I will oblige!
Ah, the private pool. We stayed at Sandals Regency in Castries St Lucia for 8 days on our honeymoon (almost 8 years ago). We had a gorgeous suite, a living room, kitchenette, separate bedroom, a gorgeous bathroom, private patio with our own pool! It was amazing. You could see the ocean from our patio, there was lush greenery all the way around it making it extremely private. Of course, this all means that it cost
an arm and a leg
a small fortune, but we were totally willing to pay that price for the experience. We arrived to the resort in the early afternoon and were taken right away to a private concierge for people who had suites as opposed to regular rooms. We were treated to champagne and hot towels to refresh ourselves after our 21 hour trip from Phoenix to St Lucia. After we checked in and were given all the information about all the amenities of the resort the shuttle took us to our suite. We walked around and looked at everything. There was a four poster bed in the bedroom in dark cherry wood finish, gorgeous bright 'island' colors (oranges, yellows, pinks, blues). We decided to head to the pool on our patio before doing anything else so we changed into our bathing suits and jumped in. Big mistake. It was FREEZING!! hahaha See, we got married on Leap Day (February 29th) and it was March 3rd by the time we got to the resort. It wasn't cold outside in St Lucia, but that water in the pool was ice cold. We quickly got out and just admired the pool from afar the rest of the honeymoon! hahaha Good times!