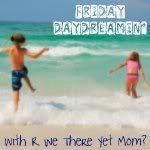 Becca
has asked us to post a story and pics about Veteran's Day today in honor of those who have served. There are many family members and friends who have served our Country and I am grateful for all of them. Two of the most special to us are my grandpa and my father in law.
My grandpa Al was a United States Marine. He served in the Korean conflict. I will always hold a special place in my heart for any Marine for this reason alone. Aside from my grandpa I have several close friends who were also Marines.
My father in law Bob was an Army Green Beret (special forces). He served two tours in Vietnam. We have some close friends who were also in the Army and served in Iraq. They have shared with us many stories of things they experienced in the war and invariably it makes me feel closer to them and more grateful than ever for people who are willing to join the military and protect the freedoms of people they have never met.
I also have friends in the other branches of the military and I am grateful to all of them and their families for the service and sacrifice. To all those who have served and died, you are not forgotten and we are grateful.
The Thomas Family