Ok, we know it's Friday so we know by now that means it's time to link up with
Becca
and get our Day Dreamin' on!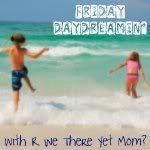 While we were in St Lucia, we had the opportunity to take some day trips and do some sight-seeing. One of the trips that I already talked about a little bit was to Soufrière and
the Pitons
. On that same day, we went to one of only a few drive in volcanos in the world that happens to be in Soufrière. It was amazing and kind of crazy to think that we were in a volcano that was still steaming. It smelled awful, that really nasty sulfer smell but what an awesome experience to have.