I'm linking up with Raven for her I ♥ Tattoo's link up today!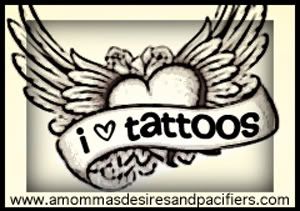 I have three tattoo's right now, with like a bazillion more I want to get. Tattoo's ain't cheap people! Today I'm going to show you my newest tattoo and I think it's pretty self-explanatory!



This is on my left ankle (and yes, that area does hurt to tattoo!). I got it about 2.5 years ago now. It is my daughter's name with her birth date and stars. I have a plan to get stars all over my back starting at my neck and going all the way down my spine of differing sizes and colors with stardust around them. Hopefully I can get started on that in the next month or so. Other than that my hubby and I are getting matching tattoo's, probably some sort of Celtic design and I am getting mine on my inner wrist. There are so many more I want to get that it's hard to name them all!