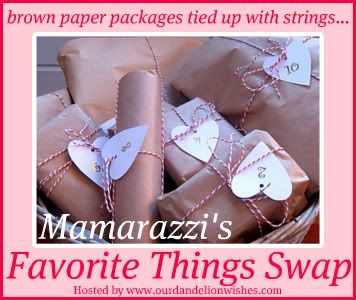 Oh. My. Goodness!! I recently participated in my first Mamarazzi swap, the Favorite Things swap. Holy goodness! I was paired up with Mrs. S who blogs at Confessions of a Sailors Wife...she totally spoiled me I will have you know.

Looky looky at all these goodies!


First off, can we just talk about how cute everything was labeled?! Seriously loved it!



Love, Love LOVE! I loved this movie and I have read all of the books. I haven't ever read Agatha Christie though so I am looking forward to reading that one soon!


I think Mrs. S and I are sista's from another mista for real...Victoria's Secret gloss is my ultimate number one favorite of all time gloss. I have every single 'flavor' now! woot!!




I have never heard of this product but I am super excited to try it out!


And hello, Kit Kat...YUM!


One of my favorite scents from Victoria's Secret. ♥



Thank you sooo soooooo much Mrs. S for all of the wonderful gifts! I love them! Thanks to Mamarazzi for hosting such a super cool swap, I already can't wait for the next one! lol sshhh though don't tell hubby!