Hello lovelies! Can you believe we are at week 7 already in my weight loss progress updates? Yeah, me neither.
Can I just say that I am still adjusting to this new platform we know as Wordpress. I have used Blogger since I started blogging so I have been used to that. So please bare with me as I figure things out around here!
This past week was a really rough one emotionally for me. We had our first appointment with the RE (fertility specialist) and while he didn't say anything I wasn't already expecting him to say, I still had a hard time actually hearing him say the words. So this week instead of getting really serious and cracking down on my calories and exercise - you know, since I am supposed to lose 30-40 pounds in 3 months I haven't exercised hardly at all and my eating has been awful. Ugh.
I gained a pound this week and have no inches lost, but it's my own fault and I take full responsibility for making poor choices when it comes to being active and eating. I am making a decision to do better this week. So hopefully the scale will reflect that next weekend!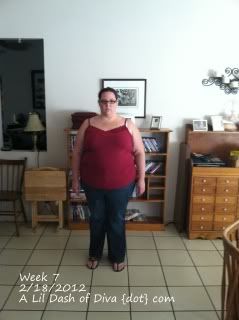 Weight loss - 0
Inches loss - 0
Tomorrow, the family is off to the Train park in Scottsdale to have a picnic and enjoy the gorgeous day we are supposed to have.  I'm sure we will walk around the park and play in addition to riding the train and the carousel.  What are you planning for tomorrow?  Don't forget to take time to do something healthy for yourself!