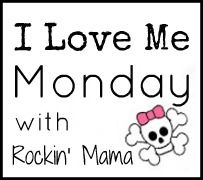 Rockin' Mama says "I Love Me Monday is just that, loving who you are!
Step out from behind the camera and embrace your beauty!

There will be 3 questions listed for you to answer and submit with your self portrait!"



1. What do people compliment you on the most? People tell me I have great 'bedroom' eyes if that is a compliment ;)

2. What is your greatest accomplishment? The obvious answer is my daughter ;) but I'm going to add that I am also a pretty kickass wife too and those to me are the most important accomplishments in my life.

3. Do you consider yourself to have an young or old soul? I think I have an old soul for sure.