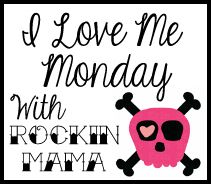 There isn't anything more beautiful than a woman comfortable in her own skin!
I LOVE ME MONDAY is just that, loving who you are!
Step out from behind the camera and embrace your beauty!

3 questions are listed below to answer, please include them with your self portrait.


1.

What is one thing you always seem to forget and want to punch yourself for it?
I always seem to forget until the last minute to do laundry so we all aren't walking around buck nekkid to work/school/whatever other activities we have going on. lol.
2.
If you could spend 15 minutes with any person of your past, present, living or deceased who would you choose?
My grandpa Al. He passed away 12 years ago and I miss him every day.
3.
What's your favorite way to wake up?
With my husband and daughter snuggling me.