Life has been a little crazy the last week or so with meet the teacher night and getting all the last minute school stuff ready and having last minute play dates with best friends and cousins. We are also in the middle of a big change at home. My parents are moving in with us temporarily so the house is a bit hectic trying to get them moved in and store all their stuff they won't need over the next little bit. Luckily, we have a big enough house to fit all of us and our 2 full housefuls of stuff. Also lucky for all of us, we like each other ;)

So, I'm a little late linking up with Rockin' Mama for My Life Rocks via Instagram, but better late than never!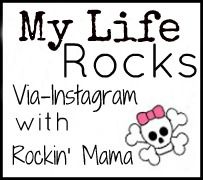 Rules are simple:
★Follow me
★Grab the button
★Create your post
★Bring your ass back to link up
★Go stalk and meet new hookers!



1. BFF crazycakes!
2. Cousin makeup time
3. Messy room
4. Someplace I sat
5. A girl and her dog snuggle time
6. More BFF crazycakes
7. Cousin snuggles
8. Handsome hubby
9. Mama's new specs
10. BFF's
11. Lego time with the BFF
12. Ahhh vino, how I love thee
13. Ring
14. Movie time with the BFF
15. Aww BFF love
16. Bedtime with the BFF

And there you have it, and that is not even all of them! ha!