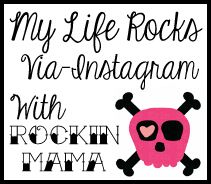 Rules are simple:
★Follow via blog, facebook, or twitter.
★Grab the button
★Create your post
★Bring your ass back to link up!





I love being photobombed my own daughter LOL

How grown up does she look in that picture? My beautiful baby girl...

Mama getting her drink on with a Barbie cup getting ready to go see Breaking Dawn 2 (all my wine glasses are in a box in storage somewhere! LOL)

Bath day for my Roxy (yes my car has a name, wanna make something of it?! )

Monster High threw up in my cart...

SLEEPOVER!! BFF's, pillow fighting, daddy make breakfast for everyone, a bottle of wine and my wonderwoman cup is how I got through the sleepover alive

Daddy and Hannah building a lego friends kit she got for her bday

Happy 8th Birthday Hannah!!

Gotta document the good hair days, they don't happen very often around these parts!

Now, go link up with Rockin' Mama with your own post!